Jurassic Virtual Reality (VR)
Rabbit Mountain

Jurassic Virtual Reality (VR) Wiki
Rabbit Mountain
Games - Version: 1.5.1 - Size: 127.16 MB - Content Rating: 9+
Jurassic Virtual Reality (VR) Review
Have you ever wanted to meet Dinosaurs in real life? Experience the ultimate dino ride with Jurassic Virtual Reality (VR)

The ultimate experience
There is no need anymore to become an archaeologist and dig the earth for fossilised dino bones to learn more about the majestic creatures that ruled our earth 65 million years ago. Archaeology is simply to boring and digging up fossils take a whole lot of time. You can study them right now using your favourite VR goggles!

Meet and greet with your favourite dino
This amazing app is like a time machine that takes you back in time. Learn more about the history of dinosaurs and stand in awe as you explore a rich virtual reality world filled with dinosaurs in amazing 3D. Explore the island's Jurassic shores and dense jungle. Safely observe the deadly creatures as they prowl their natural habitat. Hunt for your favourite creature on the vast plains and secluded mountain ranges. The app includes many breed of dinosaurs; from hunting carnivores like the towering T-Rex to smaller mini specimens such as the Dilophosaurus.

Remember that cool safari ride from the movies? This is it, right in your pocket!

CONTROLS
Movement is simple, just look in the direction you want to move and you will automatically walk that way. You have complete 360 degrees of vision and you are free to explore this space. Give it a try, it is your call!

The dinos will not assault you which is only good for your survival:), you are free to run around the park at your own leisure. This is not your ordinary roller coaster ride, but more like walking in the park…. Literally!

DINOSAUR TYPES
+ Currently the following dinosaurs are present in-game:
+ T-Rex (Tyrannosaurus Rex)
+ Triceratops
+ Raptor (Velociraptor)
+ Dilophosaurus

Other dinosaurs that are planned for the upcoming update are: Sauropod, Stegosaurus, Brontosaurus, Iguanodon, Protoceratops, Pterosaur

KEY FEATURES:
* Amazingly detailed jurassic era landscape environment
* Meet your favourite dinosaurs in this breathtaking safari adventure
* Easy to use controls, simply look where you want to go
* Many species of dinos, from hunter carnivores to kind herbivore specimen
* Unique virtual reality (VR) theme park simulator for your phone
* Compatible with virtual reality glasses such as Google Cardboard VR and others
* Crisp, Cinema like, HD visuals
* This app is built with Unity 3D Pro
* This is a unique experience and a top showcase to show off your device's capabilities


For more info on Lunagames and to become part of the community, please like us on Facebook: https://www.facebook.com/lunagames or follow us on twitter: https://www.twitter.com/lunagamesmobile. Jurassic Virtual Reality (VR) ranking and data report, Jurassic Virtual Reality (VR) apps for iPhone, iPad, iOS download..

Jurassic Virtual Reality (VR) App Images
Jurassic Virtual Reality (VR) Comments!
Jurassic Virtual Reality (VR) IOS Relase Notes!
"Improved Dino Joyride
New VR UI - do all in VR-mode."
Rabbit Mountain
http://www.rabbitmountain.com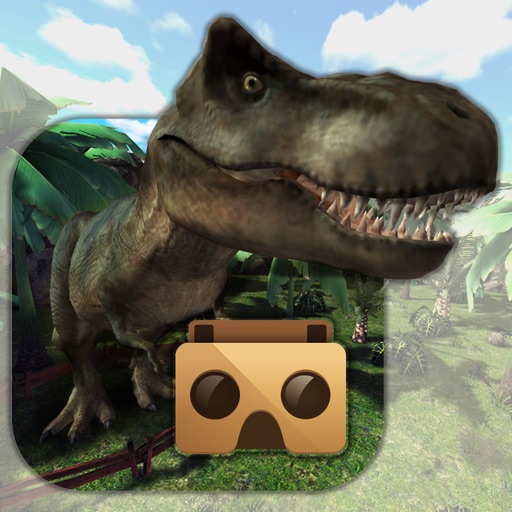 Jurassic Virtual Reality (VR) Similar IOS Apps
No more same category apps!

Jurassic Virtual Reality (VR) Apple Related Apps
No more same category apps!
Jurassic Virtual Reality (VR) Games iPhone and iPad Applications
Rabbit Mountain Jurassic Virtual Reality (VR) Download
Rabbit Mountain Jurassic Virtual Reality (VR) Application Download!
Download!