CineMagic: Hollywood Madness
Jamwix

CineMagic: Hollywood Madness Wiki
Jamwix
Games - Version: 1.6.3 - Size: 86.15 MB - Content Rating: 12+
CineMagic: Hollywood Madness Review
***** THE MOST AMAZING MOVIE CRAFTING GAME EVER! *****

- TOP #3 on iTunes App Store! -
- 4.5 Stars from players like you! -
"The game is incredibly fun... So well done, it's like a breath of fresh air for the genre!" - Touch Arcade

IMAGINE & INVENT your own Hollywood movies!
What is wrong with you!? WHY are you reading this boring App Store text when you could be playing CineMagic already?

- CRAFT & CREATE the craziest movies the world has ever seen in this insanely addictive puzzle game. Over 1.638 quintillion possible movies to craft. Not kidding. We did the math.

- MATCH MOVIE GEMS to unlock ridiculous Hollywood characters, and epic cinema stories. Unlike other match 3 games, this game is actually fun.
...kidding, candy crushing people, don't sue us.

- COLLECT over 400 ridiculous movie stars, classic characters, iconic locations and cliched plots to pack your film with. Like pocket monsters, but the monsters get mad when they don't win awards shows.

- BATTLE an endless zombie wave of sequels, prequels, reboots, and remakes from Hollywood. Witness an unimaginative zombie horde of film industry repetition threatening to destroy the world of cinema. Only you can travel back and set things right using your own power of imagination. Gee, where did we come up with such outlandish premise?

If you only play one gem-matching, RPG-card-collecting, movie-crafting, Hollywood-celebrity-culture-mocking, FREE game this year, make it this one.. CineMagic: Hollywood Madness ranking and data report, CineMagic: Hollywood Madness apps for iPhone, iPad, iOS download..

CineMagic: Hollywood Madness Supported Devices:
CineMagic: Hollywood Madness Comments!
CineMagic: Hollywood Madness IOS Relase Notes!
"Updated Facebook SDK."
Jamwix
http://jamwix.com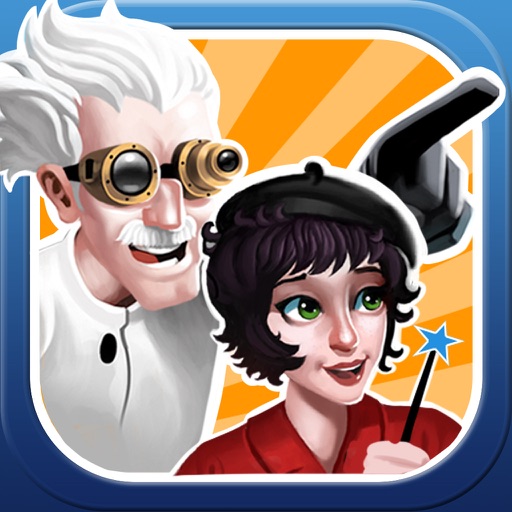 CineMagic: Hollywood Madness Games iPhone and iPad Applications
Jamwix CineMagic: Hollywood Madness Download
Jamwix CineMagic: Hollywood Madness Application Download!
Download!