MADDEN NFL Mobile
Electronic Arts
MADDEN NFL Mobile Wiki
Electronic Arts
Games - Version: 3.9.1 - Size: 140.37 MB - Content Rating: 4+
MADDEN NFL Mobile Review
Become the GM of your favorite football franchise and handpick your team of NFL stars and legends. Get in the game anytime, anywhere with Daily Live Events, Head-to-Head challenges, Seasons, and newly designed Leagues. This is authentic NFL action like you've never seen on mobile.

BUILD YOUR TEAM OF TOP STARS AND LEGENDS
Select your favorite NFL franchise and become the GM. Load your team with current stars like Rob Gronkowski and Antonio Brown, or blockbuster legends like Jerry Rice. Draft real NFL pros from the past and present by opening packs, or through the Auction House. Develop your strategy, upgrade your roster, and take your team out on the field to compete with friends.

MAKE WINNING PLAYS, YOUR WAY
Go big or go home in genuine 16-game Seasons mode. Be the quarterback and go for the end zone with the new scramble feature, or score TDs running pass routes as your favorite receiver. Compete against friends and rivals in Head-to-Head mode and battle it out for gridiron glory. Join a League that matches your focus, whether it be earning achievements as a group, or taking on other Leagues in competitions. Plus, play quick Spontaneous Challenges in any mode for boosted rewards.

ELEVATE YOUR GAME IN DAILY LIVE EVENTS
Madden NFL Mobile connects you to the NFL every day, all year long. Instantly tap into fun, new challenges and incredible limited-time rewards each time you play. Live Events, in-season plays, mini-games, tiered multi-day sports events, and more – they're all based on the real NFL season.

Take your team all the way in Madden NFL Mobile and bring the best in football action straight to your fingertips.


User Agreement: terms.ea.com
Visit https://help.ea.com/ for assistance or inquiries.

EA may retire online features and services after 30 days' notice posted on www.ea.com/1/service-updates

Important Consumer Information: requires a persistent Internet connection (network fees may apply); Requires acceptance of EA's Privacy & Cookie Policy and User Agreement; includes in-game advertising; collects data through third party analytics technology (see Privacy & Cookie Policy for details); contains direct links to the Internet and social networking sites intended for an audience over 13.. MADDEN NFL Mobile ranking and data report, MADDEN NFL Mobile apps for iPhone, iPad, iOS download..

MADDEN NFL Mobile App Images
MADDEN NFL Mobile Comments!
MADDEN NFL Mobile IOS Relase Notes!
"Hey, football fans! We've made some off-field updates in preparation for our annual Season Score, where you'll earn rewards for your progress and achievements. Play now to get a head start on increasing your Season Score and set yourself on the path to earning special players and items.."
Electronic Arts
http://www.ea.com/iphone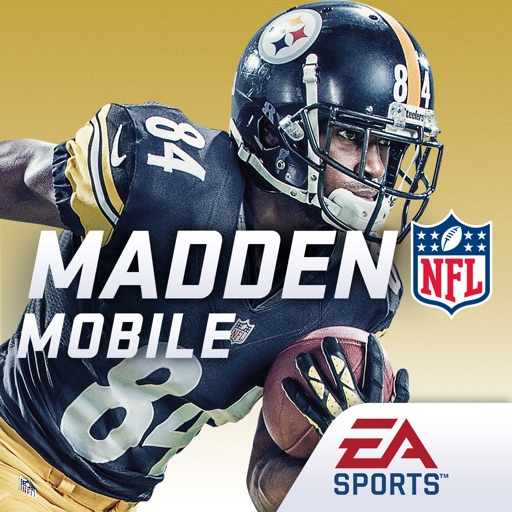 MADDEN NFL Mobile Games iPhone and iPad Applications
Electronic Arts MADDEN NFL Mobile Download
Electronic Arts MADDEN NFL Mobile Application Download!
Download!