Asphalt 8: Airborne
Gameloft
Asphalt 8: Airborne Review
200 MILLION PLAYERS CAN'T BE WRONG!
TAKE A SPIN WITH THE FRONTRUNNER OF MOBILE RACING GAMES!

ACCLAIMED BY PLAYERS & THE PRESS!
"The iOS platform has quietly become a haven for great racers, and Asphalt 8 looks to be leading the pack right now." - TouchArcade

WINNER: **2015 MWC Best Mobile Game App**
WINNER: **Winner of 2014 Pocket Gamer Best Sports/Racing Game Award**
PERFECT SCORE: ** 5/5 – TouchArcade**
PERFECT SCORE: ** 5/5 – AppSpy**
PERFECT SCORE: ** 5/5 – Slide to Play**
PERFECT SCORE: ** 100/100 – GameReactor**
PERFECT SCORE: ** 5/5 – MacLife**

LEAVE GRAVITY IN THE DUST!
• 140+ OFFICIAL SPEED MACHINES: Ferrari, Lamborghini, McLaren, Bugatti, Mercedes, Audi, Ford, Chevrolet… We got 'em all!
• STUNNING GRAPHICS: Interactions between the vehicles, environments & tracks are a fully physics-based experience!
• ARCADE GAMEPLAY AT ITS FINEST: Feel the thrill of gravity-defying racing across 40+ high-speed tracks!
• THE ULTIMATE MULTIPLAYER RACING EXPERIENCE: Race in real-time multiplayer action for up to 12 opponents & dare your friends to ghost races!
• WIN BIG: Participate in our Limited-Time Events to stack up amazing & exclusive rewards!
• MASSIVE CONTENT DEPTH: 400+ career events, 1,500 car mastery challenges, 5 unique game modes, car collections. An endless stream of single-player content!
• CUSTOMIZE & UPGRADE YOUR RIDES: With over 2,300 decals, take down your opponents with style!

JOIN OUR RACER COMMUNITY!
• FACEBOOK: facebook.com/AsphaltGame
• YOUTUBE: youtube.com/c/AsphaltGames
• TWITTER: twitter.com/Asphalt
• INSTAGRAM: instagram.com/asphalt8
_____________________________________________

Visit our official site at http://www.gameloft.com
Follow us on Twitter at http://glft.co/GameloftonTwitter or like us on Facebook at http://facebook.com/Gameloft to get more info about all our upcoming titles.
Check out our videos and game trailers on http://www.youtube.com/Gameloft
Discover our blog at http://glft.co/Gameloft_Official_Blog for the inside scoop on everything Gameloft.

_____________________________________________

This app allows you to purchase virtual items within the app and may contain third-party advertisements that may redirect you to a third-party site.

Privacy Policy: http://www.gameloft.com/privacy-notice/
Terms of Use: http://www.gameloft.com/conditions/
End-User License Agreement: http://www.gameloft.com/eula/?lang=en. Asphalt 8: Airborne ranking and data report, Asphalt 8: Airborne apps for iPhone, iPad, iOS download..

Asphalt 8: Airborne App Images
Asphalt 8: Airborne Comments!
Asphalt 8: Airborne IOS Relase Notes!
"Make 2017 the Year of Speed with these high-performance surprises!
- NEW LOCATION: Weave your way in and around the mighty mountains of Patagonia! Discover 4 routes and an avalanche of shortcuts & events to master!
- NEW McLAREN RACE CAR: Get revved & ready for a new event! Complete every tour and claim the unparalleled & iconic McLaren MP4/8 as your own!
- NEW CARS: Look out for each spectacular speedster's special event in the coming weeks and kick off the Lunar New Year with the limited-time Mercedes-Benz SLK 55 AMG Special Edition!
- LUNAR NEW YEAR R&D: Celebrate the Year of the Rooster with a special Renault Alpine Celebration you can tweak to perfection and OWN in the new R&D Event!
- AVENTADOR SV DOUBLE DOWN: Put it all on the line in a new Enduro Double Down! Only the most skilled and fearless drivers will earn the right to claim the prestigious Lamborghini Aventador SV as their own.."
Gameloft
http://www.gameloft.com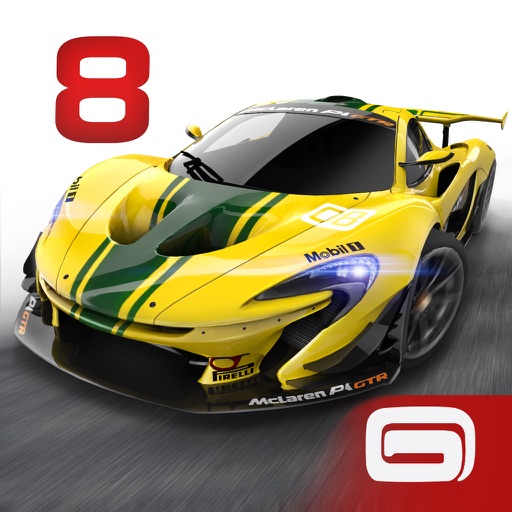 Asphalt 8: Airborne Games iPhone and iPad Applications
Gameloft Asphalt 8: Airborne Download
Gameloft Asphalt 8: Airborne Application Download!
Download!